ColorSelector control
Selection of a colour from a pallette or by adjusting the RGB and HSL components with several graphical displays.
Mit diesem Steuerelement kann der Benutzer eine beliebige Farbe auswählen, indem er sie entweder aus eine Palette auswählt, die Rot-/Grün-/Blau-Werte einstellt oder Farbton, Sättigung und Helligkeit intuitiv einstellt. An jedem Regler wird außerdem die Wirkung einer anderen Einstellung vorab dargestellt, so dass eine Anpassung der Farbe auch für Benutzer einfach möglich ist, denen der RGB-Farbraum nicht vertraut ist.
Das ColorSelector-Steuerelement wird insbesondere in der Dropdown-Ansicht des ColorButton-Steuerelements verwendet.
Compatibility:

Version 2.0 or newer
Beispiel
Die folgende Abbildung zeigt die Farbauswahl mit dem ColorSelector-Steuerelement. Die Ansicht kann zwischen einer einfachen Farbpalette und einer erweiterten Farbauswahl umgeschaltet werden.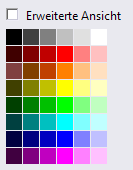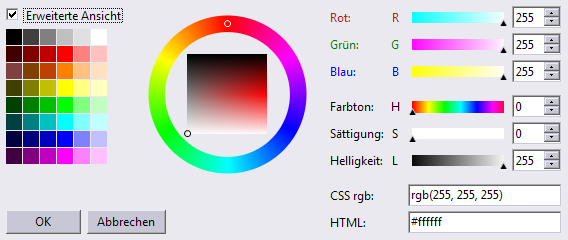 Download

colorselector.7z9.5 KiBQuelltext des ColorSelector-Steuerelements
Hinweise zur Verwendung
Zur Verwendung des ColorSelector-Steuerelements werden die Steuerelemente ColorFader und ColorWheel und die Color­Math-Klasse benötigt.
Licence and terms of use
This software is released under the terms of the simplified BSD licence. You can find the detailed terms and conditions in the download.
Statistic data
Created on

2012-01-22

.
First used in Ready Calendar.
Ca. 500 lines of code, estimated development costs: 500 - 2 000 €