ColorFader control
Selection of a blend colour between two specified colours or of a colour hue with graphical display.
Ein ColorFader ist so etwas wie eine TrackBar für Farben. Auf einer grafischen Skala werden alle Zwischenfarben von zwei angegebenen Farben angezeigt und mit dem Pfeil kann eine Farbe aus diesem Bereich ausgewählt werden. Das ist besonders für RGB-Regler oder zur Auswahl einer anderen Helligkeit einer vorgegebenen Farbe nützlich.
Compatibility:

Version 2.0 or newer
Beispiel
Die folgende Abbildung zeigt eine Farbauswahl mit mehreren ColorFader-Steuerelementen für die einzelnen Farbkomponenten.
Für eine lineare Farbauswahl werden die beiden Grenzfarben mit Color1 und Color2 festgelegt. Die Auswahl des Farbtons wird mit der HueMode-Eigenschaft bestimmt. In der untersten Auswahl wird die Deckkraft der Farbe ausgewählt, wobei die Transparenz mit einem grauen Kachelmuster dargestellt wird, wie es in Bildbearbeitungsprogrammen üblich ist. Mit der Ratio-Eigenschaft wird die aktuelle Position der Auswahl abgerufen oder gesetzt. Mit der NumericControl-Eigenschaft kann außerdem ein NumericControl-Steuerelement mit der ColorFader-Instanz verknüpft werden, so dass die Auswahl auch nummerisch dargestellt wird.
(Die Labels links und die nummerische Auswahl rechts gehören nicht zum ColorFader-Steuerelement.)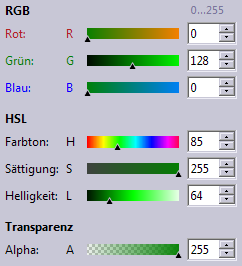 Das ColorFader-Steuerelement wird auch im ColorSelector- und damit auch im ColorButton-Steuerelement und in der Anwendung Farbeimer verwendet.
Download

ColorFader.cs9.2 KiBQuelltext des ColorFader-Steuerelements
Hinweise zur Verwendung
Zur Verwendung des ColorFader-Steuerelements wird die ColorMath-Klasse benötigt.
Licence and terms of use
Copying and distribution of this file, with or without modification, are permitted provided the copyright notice and this notice are preserved. This file is offered as-is, without any warranty. (GNU All-Permissive licence)
Statistic data
Created on 2010-03-25, updated on

2011-03-24

.
First used in DvbViewerSkinner.
Ca. 160 lines of code, estimated development costs: 160 - 640 €