Interactive Farbeimer
An interactive realistic colour mixer for webdesigners, with a diverse display of colours in the RGB and HSL colour space.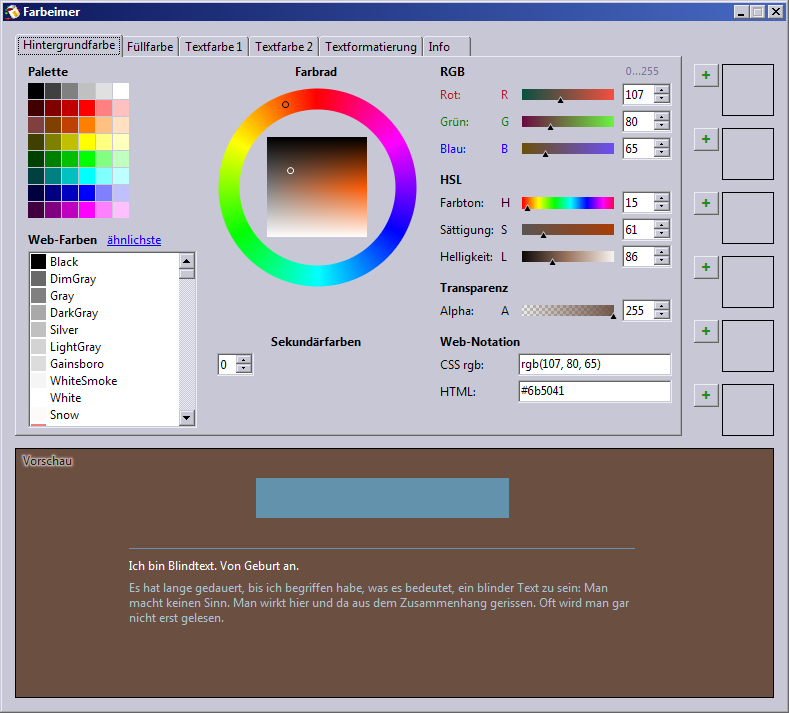 Gerade beim Designen von Webseiten oder auch mal bei Benutzeroberflächen in Anwendungen muss man passende und gut erkennbare Farben finden. Das Einsetzen einer Farbe und anschließende Testen ist nicht so ganz die optimale Methode und wird insbesondere dann aufwändig, wenn nach der Farbauswahl weitere Bearbeitungsschritte nötig sind. Außerdem wirkt eine Farbe unterschiedlich, wenn sie als Text- oder Füllfarbe oder für einen großflächigen Hintergrund eingesetzt wird. Hier hilft dieser Farbmischer dabei, sich bereits vorab in einer einfachen Beispielansicht die Wirkung verschiedener Farben anzusehen.
Außerdem ist er ein gutes Werkzeug für Anfänger, sich den RGB- oder HSL-Farbraum zu erschließen, um sich so später auch ohne visuelle Hilfe unter eine HTML-Farbe wie #ff8000 etwas vorstellen zu können.
Compatibility:

Version 2.0 or newer





Der Farbeimer verwendet die beiden C#-Steuerelemente ColorFader und ColorWheel, die frei verfügbar sind.
Bilder

Startansicht des Programms


Sekundärfarben


Textformatierung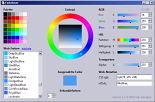 Version 1.2

Download

farbeimer.7z46.0 KiBKomprimierte Programmdatei, Version 1.3
Vorherige Versionen
Licence and terms of use
This software is "freeware". This means that it is free of charge for private and commercial use. Further distribution is prohibited without my permission. The source code is not available. There is no warranty, not even or merchantability for fitness for a particular purpose. I am not liable for any damage caused through appropriate or inappropriate use.
Statistic data
Created on 2010-05-18, updated on

2011-05-07

.
Ca. 1 350 lines of code, estimated development costs: 1 400 - 5 400 €