MultiExposure
Overlays multiple images with adjustable weight into a single image. Thereby you can achieve an effect like multiple exposure of a photo film in analogue cameras.
Archived content: This application is currently inactive and may be outdated or no longer maintained or functional.

Durch Mehrfachbelichtung eines Films konnten schon frühe Fotografen interessante Effekte erzielen. Im Digitalzeitalter geht das mit Bildbearbeitungsprogrammen natürlich etwas einfacher. Dennoch sind dafür schon eine gewisse Anzahl Arbeitsschritte erforderlich, und gerade für Anfänger oder schnelle Aufgaben kann es hilfreich sein, genau diese Arbeit zu automatisieren.
Genau das tut die MultiExposure-Anwendung. In der Liste oben rechts können mehrere Bilddateien geladen, sortiert und wieder entfernt werden. Darunter kann für jedes Bild eine eigene Gewichtung eingestellt werden. So können einzelne Bilder der Mehrfachbelichtung stärkeren Einfluss bekommen als andere. Auch eine Verschiebung einzelner Bilder ist möglich, um z. B. leichte Kameraschwenks auszugleichen. Mit der Durchschnitts-Option wird die Summe der eingestellten Gewichte auf eins skaliert, es findet also keine Über- oder Unterbelichtung statt, die ansonsten zu erzielen ist. Das resultierende Bild wird links groß angezeigt und kann in der eingestellten JPEG-Qualität gespeichert werden.
Compatibility:

Version 2.0 or newer





Bilder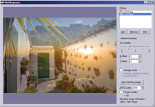 Programmfenster

Download

MultiExposure.exe68 KiBProgrammdatei
Änderungen
Kleinere Fehlerbehebungen im GUI-Layout.
Licence and terms of use
This software is "freeware". This means that it is free of charge for private and commercial use. Further distribution is prohibited without my permission. The source code is not available. There is no warranty, not even or merchantability for fitness for a particular purpose. I am not liable for any damage caused through appropriate or inappropriate use.
Statistic data
Created on 2008-01-12, updated on

2012-03-12

.
Ca. 360 lines of code, estimated development costs: 360 - 1 400 €