AspectRatio
Displays images on different paper sizes and provides information about aspect ratio, resolution and image quality, to quickly and easily try what printing quality a photo has on a certain paper format.

So kann man auch gut ausprobieren, ob ein Foto auf ein bestimmtes Papierformat passt. Es stehen verschiedene Papierformate zur Auswahl, darunter DIN A3/4/5 und Fotoformate wie 20 × 30 cm oder 10 × 15 cm. Die Bildgröße kann anhand der Pixelbreite und -höhe angegeben werden, danach lassen sich Auflösung (dpi) und Ausrichtung (Querformat) einstellen. Die Druckgröße wird im linken Teil des Fensters visualisiert. Um die Eingabe für vorhandene Fotodateien zu vereinfachen, kann man die Datei auch per Drag&Drop auf das Programmfenster ziehen, wodurch Pixelgröße und DPI-Zahl aus dem Bild eingesetzt werden und gleichzeitig das Bild selbst in den blauen Platzhalter eingesetzt wird.
Compatibility:

Version 2.0 or newer





Die Auflösung von Bildschirmen findest du auf der Seite Rechnen mit Bildschirmauflösungen heraus.
Bilder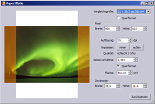 Ein Bild auf einer DIN-A4-Seite

Download

AspectRatio.exe80 KiBProgrammdatei, Version 1.0.2

AspectRatio.7z14.3 KiBKomprimierte Programmdatei, Version 1.0.2
Änderungen
Version 1.0.2
Bild kann als Kommandozeilenparameter angegeben werden
Zoom-Buttons setzen minimal oder maximal zulässige Auflösung, falls der Bereich nicht eingehalten würde, anstatt gar nichts zu tun
Version 1.0.1
Dateigröße verringert (Icon nur noch einmal enthalten)
Licence and terms of use
This software is "freeware". This means that it is free of charge for private and commercial use. Further distribution is prohibited without my permission. The source code is not available. There is no warranty, not even or merchantability for fitness for a particular purpose. I am not liable for any damage caused through appropriate or inappropriate use.
Statistic data
Created on 2006-10-07, updated on

2008-06-30

.
Ca. 510 lines of code, estimated development costs: 510 - 2 000 €