Clean Code Developer
Principles and practices for more software quality. And a large poster for orientation.
This page currently only provides a download of the large CCD poster (German only). Further contents will follow.
Poster
Angeregt durch einen Vortrag zum Thema Clean Code Developer, ein großes Poster dazu an die Wand zu hängen, aber mangels dafür geeigneter Vorlagen, habe ich selbst ein solches Poster entworfen. Basierend auf den Inhalten des CCD-Wikis und mit etwas Mithilfe von Ralf Westphal in den Google Groups ist dieses Werk für die Formate DIN A1 und A0 entstanden. Die PDF-Datei kann man bei jeder Druckerei drucken lassen. Ich habe mit flyeralarm bei meiner ersten Bestellung gute Erfahrungen gemacht.
Das Poster gibt es bislang nur in deutscher Sprache. Da die Inhalte zu großen Teilen aus dem CCD-Wiki zusammengefasst und etwas umformuliert wurden und nur mit Details aus Wikipedia-Artikeln und anderen Quellen angereichert wurden, hängt eine englische Übersetzung vor allem von der englischen Übersetzung des Wikis ab.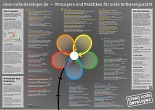 Clean-Code-Poster

Download
Hier sind die druckfertigen PDF-Dateien in beiden Größen in der aktuellen Version 2017.12.31. Zur vorherigen Version von 2013 wurde nur das Firmenlogo entfernt.

CCD-Poster_A0.pdf3.8 MiBDruckfertiges PDF-Dokument, DIN A0 (3 mm Beschnittrand)

CCD-Poster_A0_1mm.pdf3.8 MiBDruckfertiges PDF-Dokument, DIN A0 (1 mm Beschnittrand für flyeralarm)

CCD-Poster_A1.pdf3.5 MiBDruckfertiges PDF-Dokument, DIN A1 (3 mm Beschnittrand)
Statistic data