InfoLabel control
Displays highlighted clickable text messages with an icon in a window on which the user can perform some action or open a menu with further options.
Dieses Steuerelement bietet eine Anzeige für hervorgehobene Meldungen, die mit einem Symbol versehen werden können. Bekannt dürfte diese Darstellung durch Sicherheitswarnungen und den Popup-Blocker im Internet Explorer geworden sein, der am oberen Rand des Fensters eine gelbe Warnmeldung angezeigt hat, die man anklicken kann. Dieses Informationsfeld ist jetzt auch für .NET-Anwendungen verfügbar.
Die Höhe wird automatisch eingestellt und kann nicht manuell verändert werden.
Alle Farben sowie das verwendete Symbol können wie gewohnt im Designer oder zur Laufzeit verändert werden. Vorgabe sind hier die Standard-Systemfarben und kein Symbol.
Das Control stellt das Click-Ereignis zur Verfügung, das beim Klicken auf das Feld aktiviert wird.
Das InfoLabel ist vollständig per Tastatur bedienbar und zeigt bei Bedarf einen Fokusrahmen an.
Es kann oben und unten am Fensterrand angedockt werden oder frei im Fenster platziert werden.
Der Rahmen um das Feld kann deaktiviert werden.
Compatibility:

Version 2.0 or newer
Beispiel
Die folgende Abbildung zeigt eine einfache Beispiel-Anwendung. Einmal wird das InfoLabel normal angezeigt, einmal mit dem Mauszeiger darüber (dieses Verhalten ist optional).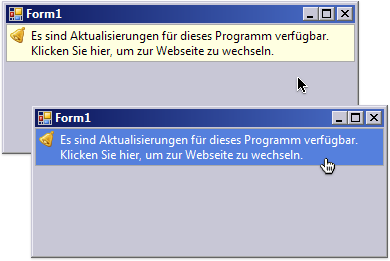 Download

InfoLabel.cs15.1 KiBQuelltext des InfoLabel-Steuerelements
Hinweise zur Verwendung
Um die volle Designer-Funktionalität zu verwenden, muss dem Projekt eine Referenz auf System.Design hinzugefügt werden. In .NET 4.0 ist dieses Assembly leider nicht mehr im Client Profile enthalten. Um für die Anwendung nicht das Full Profile erforderlich zu machen, kann diese Referenz auch weggelassen werden. Dann stehen aber zur Entwurfszeit nicht mehr alle automatischen Anpassungen zur Verfügung. Außerdem müssen dann alle Teile des Quelltexts entfernt oder auskommentiert werden, die der Compiler bemängelt.
Änderungen
Fehler beim Zeichnen des Fokusrechtecks behoben.
Licence and terms of use
Copying and distribution of this file, with or without modification, are permitted provided the copyright notice and this notice are preserved. This file is offered as-is, without any warranty. (GNU All-Permissive licence)
Statistic data
Created on 2007-04-28, updated on

2011-08-29

.
First used in ARLog: Amateur Radio Logbook.
Ca. 250 lines of code, estimated development costs: 250 - 1 000 €