Winamp Presenter
Allows controlling Winamp playback with common presentation remotes, skipping to the previous/next track or pausing/resuming playback.
Archived content: This application is currently inactive and may be outdated or no longer maintained or functional.

Diese kleine und einfache Anwendung dient dazu, Winamp mithilfe einer handelsüblichen Präsentationsfernbedienung zu steuern. Dafür wird die Taste "vorherige Folie" auf die Funktion "vorheriger Titel", "nächste Folie" auf "nächster Titel" und "schwarzer Bildschirm" auf "Play/Pause" abgebildet. Durch Drücken der Taste ‹F5› ("Präsentation starten") wechselt das Programm in den Vollbildmodus, in dem auf einem sonst schwarzen Bildschirm in großer Schrift der aktuelle Titelname sowie Zeitangaben dazu angezeigt werden. Mit ‹Esc› wird dieser Modus wieder verlassen. Weitere Funktionen werden derzeit nicht unterstützt. Durch die Vielfalt von erkannten Tasteneingaben sollte diese Anwendung wirklich jede verfügbare Fernbedienung für diesen Zweck erkennen.
Das Programm selbst bietet keine Konfiguration und muss nicht installiert werden. Es kann einfach gestartet werden und verrichtet sofort seinen Dienst. Damit die Steuerung funktioniert, muss das Programmfenster aktiviert sein, um die Tasteneingaben der Fernbedienung zu erhalten. Die Aktivierung des Bildschirmschoners oder anderer Idle-Ereignisse wird während der Nutzung unterbunden.
Compatibility:

Version 2.0 or newer

(see notes)


Version 2 to 5
Bilder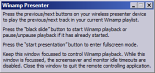 Hauptfenster mit Hinweistexten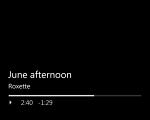 Vollbildansicht

Download

WinampPresenter.exe72 KiBProgrammdatei, Version 1.3
Offene Punkte
Windows Vista/7: Winamp darf nicht in einem höherprivilegierten Benutzerkonto laufen als Winamp Presenter, da die Fernsteuerung von Winamp sonst unterbunden wird.
Änderungen
Version 1.3
Windows-Vista-Kompatibilität: Der Dateiname wird korrekt ausgelesen und angezeigt.
Unterstützung der Fernbedienung Logitech R-RB5: Die "Black-Slide"-Taste sendet einen Punkt (.) statt einem B (Danke an Martin Schanderl für den Hinweis)
Interne Programm-Umstrukturierung
Version 1.2
Winamp wird auch in anderen Verzeichnissen als C:\Programme\Winamp erkannt. Eine ordentliche Installation von Winamp ist nicht notwendig, der Dateipfad wird direkt über das Fenster-Handle ermittelt.
Version 1.1.1
Dateigröße verringert (Icon nur noch einmal enthalten)
Version 1.1
Anzeige der lokalen Uhrzeit unten rechts
Licence and terms of use
This software is "freeware". This means that it is free of charge for private and commercial use. Further distribution is prohibited without my permission. The source code is not available. There is no warranty, not even or merchantability for fitness for a particular purpose. I am not liable for any damage caused through appropriate or inappropriate use.
Statistic data
Created on 2006-12-13, updated on

2009-04-29

.
Ca. 580 lines of code, estimated development costs: 580 - 2 300 €
Weitere Schlagwörter: Fernbedienung Fernsteuerung Steuerung steuern presentation remote control