NetPorter: TCP port forwarder
Simple port forwarder for multiple TCP/IP connections in situations where an IP router would be too bulky.

Da ich seit einiger Zeit keine brauchbare Windows-Anwendung gefunden habe, die mir einfach nur eingehende TCP/IP-Verbindungen auf andere Rechner oder Ports weiterleitet, habe ich selbst zur Tastatur gegriffen und unter Zuhilfenahme der Proxy-Klassen von mentalis.org eine Lösung geschaffen. Die Bedienung des Programms ist sehr einfach: Es gibt Speicherplätze für Weiterleitungen, die jeweils einen Namen, einen Eingangsport, eine Zieladresse sowie -port enthalten. Durch Setzen des Hakens in der Liste wird eine Weiterleitung aktiviert. Die Änderungen werden sofort in einer Datei gespeichert (aber erst nach einer erneuten Aktivierung der Weiterleitung angewendet, falls sie bereits aktiviert ist). Beim Minimieren des Fensters verkleinert es sich als Symbol neben die Uhr.
Compatibility:

Version 2.0 or newer





Bilder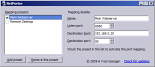 Screenshot

Download

NetPorter.exe60 KiBProgrammdatei, Version 1.1.1

NetPorter-src.zip71 KiBQuelltext (Visual C# 2005), Version 1.1.1
Offene Punkte
UDP-Unterstützung hinzufügen (2 Checkboxen neben Listen-Port, von denen mind. eine aktiv ist)
Startet man das Programm aus der Verknüpfung gleich minimiert, bleibt es unsichtbar, bis man es mit einem Taskmanager anzeigt.
Logfenster, das alle übertragenen Daten anzeigt, RichTextbox verwenden, gesendeter Text rot, empfangener grün, nicht druckbare Zeichen wie in less darstellen (invertierter Hintergrund und Hex-Zeichenwert)
Änderungen
Version 1.1.1
Dateigröße verringert (Icon nur noch einmal enthalten)
Licence and terms of use
This software is released under the terms of the simplified BSD licence. You can find the detailed terms and conditions in the download.
Statistic data
Created on 2005-12-19, updated on

2007-07-22

.
Ca. 820 lines of code, estimated development costs: 820 - 3 300 €