FileConvert
Converts files between different character encodings (ANSI, Unicode, UTF-8, ...) and line endings (Windows/Unix).
FileConvert ist eine kleine Hilfsanwendung, die Textdateien zwischen verschiedenen Zeichenkodierungen konvertiert. Dabei werden alle Kodierungen des .NET-Framework unterstützt, und das sind viele! Das Auswahlfeld "Show all encodings" ergänzt dabei die sinnvolle Vorauswahl in beiden Listen durch alle restlichen Kodierungen. Bei Unicode-Formaten kann außerdem der Byte Order Marker (BOM, auch Cookie oder Signatur genannt) gesetzt oder entfernt werden, was insbesondere bei der Bearbeitung von PHP-Dateien im UTF-8-Format hilfreich sein kann. Dateien werden per Drag&Drop in das Fenster gezogen. Bei Unicode-Dateien mit BOM wird die Kodierung der Eingabedateien automatisch erkannt.
Diese Anwendung habe ich ursprünglich als Hilfsmittel für Übersetzer des Unclassified NewsBoard entwickelt, um sie bei der korrekten Kodierung der PHP-Dateien zu unterstützen.
Compatibility:

Version 2.0 or newer





Bilder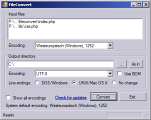 Programmfenster

Download

FileConvert.exe40.0 KiBProgrammdatei, Version 1.3

FileConvert-src.zip18.4 KiBQuelltext (Visual C# 2005), Version 1.3
Offene Punkte
Die Kürzung des Dateinamens in der Liste könnte etwas intelligenter sein.
Die Erkennung der Kodierung der Eingabedateien könnte auch genauer hinsehen und z. B. UTF-8-Dateien ohne BOM aufgrund der vorhandenen Zeichen erkennen.
Der Thread-Verhau könnte durch einen BackgroundWorker ersetzt werden.
Änderungen
Version 1.2
Rückfrage vor dem Überschreiben vorhandener Dateien hinzugefügt
Licence and terms of use
This software is released under the terms of the simplified BSD licence. You can find the detailed terms and conditions in the download.
Statistic data
Created on 2005-11-27, updated on

2007-07-22

.
Ca. 580 lines of code, estimated development costs: 580 - 2 300 €
Weitere Schlagwörter: Dateien Zeichenkodierung Kodierung konvertieren Konvertierung Unicode Multi-Byte Zeichensatz Encoding ASCII ANSI DOS Zeilenende Line ending Character set UTF UTF-8 UTF-16 UCS UCS-2 Latin Latin1 Latin-1